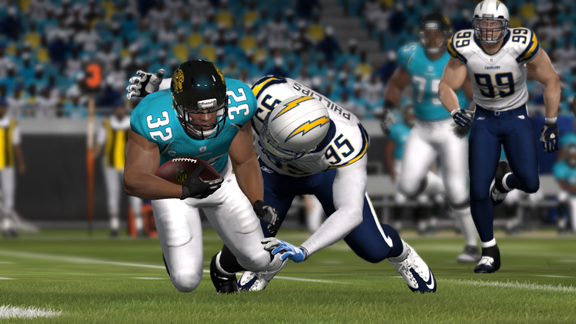 EA Sports
Every NFL game this week has been simulated with the help of EA Sports and "Madden NFL 12" using the game's advanced artificial intelligence, complete with winners, statistical leaders, and even the player of the game.
Check out who "Madden" thinks is going to win Monday night's game, the San Diego Chargers at the Jacksonville Jaguars:
---
Is Blaine Gabbert really the future in Jacksonville? The rookie is off to a shaky start, and it doesn't get any easier. According to "Madden," Gabbert has a miserable time against the Chargers D, throwing four interceptions, including a pick-six to Eric Weddle in the Jags' 27-10 loss. Talk about a team (and a quarterback) in a desperate situation.
Click here for a box score and game leaders.
To see how the rest of this week's games fared in the simulation, visit The Gamer blog's
Madden NFL 12: Week 13 Simulations.