San Diego State is reportedly among five schools set to join the Big East Conference in football.
On the surface, the move seems geographically preposterous, seeing as how SDSU's campus sits just 12 miles from the Pacific Ocean.
Dig a little deeper, however, and you'll see that the Aztecs are a better fit for the Big East than you might think. Here's a list of 15 things located farther west than the SDSU campus:
• Sea World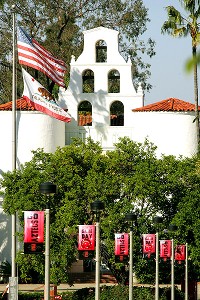 Kent Horner/Getty ImagesHepner Hall on the campus of San Diego State stands proudly as the newest landmark of the Big East.
• The East Village (of downtown San Diego)
• East Mission Bay
• East Los Angeles
• East Palo Alto
• The University of Hawaii
• The University of San Diego
• The University of California at San Diego
• Interstate 5
• Interstate 15
• Reno, Nev.
• Eight Pac-12 schools
• All Big West schools
• All West Coast Conference schools except BYU
• Five In-N-Out Burger locations ... in San Diego alone!