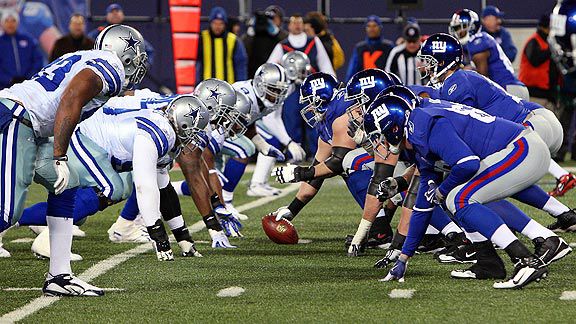 Jim McIsaac/Getty ImagesCan the Giants beat the Cowboys and move into a tie atop the NFC East? Or will Dallas extend its lead?
Just as the NFL puts out an injury report on the likelihood that certain players will suit up each week (probable, questionable, doubtful or out), we rate the NFL schedule on the likelihood that games will be worth watching. Because let's face it, you can't watch them all.
"PROBABLE" Game of the Week New York Giants at Dallas.
Cowboys linebacker DeMarcus Ware said of playing the Giants, "I hate anytime we play them. It's just not the Giants, because guess what, [any opposing] team is trying to come in here and take your manhood." If that is indeed the case, we strongly advise Ware to wear a protective cup. ... Overlooked as a result of Jason Garrett's questionable decision to call a timeout and ice his own kicker during last week's overtime loss in Arizona was the fact that Tony Romo was somehow given a free pass. Don't let Garrett's gaffe fool you; that defeat was totally Romo's fault. It's always his fault.
"QUESTIONABLE" Game of the Week: Chicago at Denver.
With Matt Forte out with a knee injury and Caleb Hanie under center for the Bears, it seems unlikely that the Broncos will need any late-game miracles, creating the possibility that we'll finally see four full quarters of mediocre football from Tim Tebow.
"DOUBTFUL" Game of the Week: Oakland at Green Bay.
If the Raiders succeed where the Giants failed and end the Packers' perfect season, we know who'll be smiling the widest.
"OUT" Game of the Week: Tampa Bay at Jacksonville
Thanks to a late-week media blitz, this matchup in Jacksonville might generate 10 percent of the interest of the annual Georgia-Florida football game.