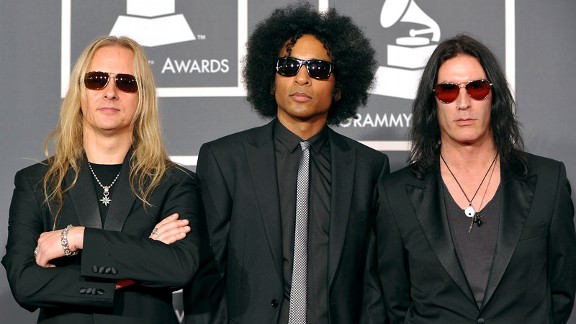 John Shearer/Getty ImagesJerry Cantrell, William Duvall and Sean Kinney made the Alice in Chains fantasy football playoffs.
Appropriately enough, members of Alice in Chains dominate the field of teams that compose the final four in the third annual Alice in Chains & Friends Fantasy Football Charity League.
Sean Kinney overtook guitarist Jerry Cantrell last week to earn the top seed, lining the drummer up against singer William DuVall in the semifinal game that takes place over the next two weeks of the NFL season.
Kinney's Team Nosering (8-5) tied Cantrell's for first overall but won the tiebreaker because it scored more points (1,226 compared with Cantrell's 1,194).
"It feels great to slap the blond one. It was the only demand I put on my elite team of nerds," Kinney said via email about winning the regular-season title.
Cantrell, the second seed, faces former Queensryche guitarist Chris DeGarmo in the other semifinal.