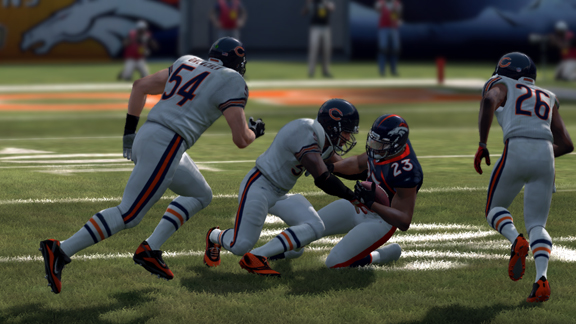 EA Sports
Every NFL game this week has been simulated with the help of EA Sports and "Madden NFL 12" using the game's advanced artificial intelligence, complete with winners, statistical leaders, and even the player of the game.
Check out who "Madden" thinks is going to win before the games are even played, including one of the week's best games, the Chicago Bears at the Denver Broncos:
---
Tim Tebow only completes eight passes against the Bears, but it's almost enough as Denver storms back from a late 20-10 deficit and manages to cut the lead down to three before finally succumbing to the hard-hitting Chicago defense. While Tebow couldn't pull off this miracle, the bigger news for Bears fans is the improved play of Caleb Hanie who throws for 241 yards and one touchdown in the win.
For a box score, and to tab through the rest of the games,
visit The Gamer blog's Madden NFL 12: Week 14 Simulations »