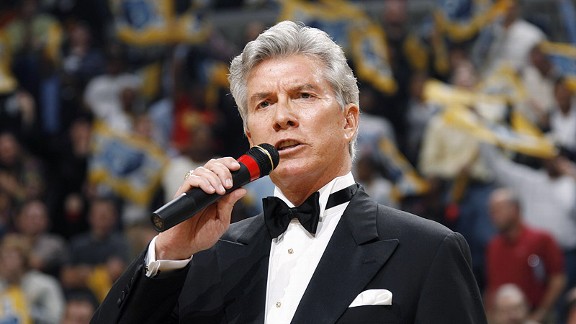 Joe Murphy/NBAE/Getty ImagesSaying "Let's get ready to rumble" got Michael Buffer into Boxing's Hall of Fame.
Michael Buffer was recently elected to the Boxing Hall of Fame -- without ever throwing a punch, training a fighter or growing a handlebar mustache in 1905. He earned his immortal spot alongside boxing greats Jack Dempsey and Marvin Hagler based on repeating five words, "Let's get ready to rumble!!!" With that in mind, it's about time other sports opened up their Hall of Fame inductions to some five-word wonders:
Bowling Hall of Fame
Hal Rabinowitz, front desk clerk at Hollywood Lanes.
Memorable phrase: "What size shoes ya want?"
Football Hall of Fame
Frankie Santos, NFL referee Ed Hochuli's biceps trainer.
Memorable phrase: "C'mon, Eddie! Three more reps!"
Soccer Hall of Fame
Ned Grayton, coach of the Wyoming Warriors junior traveling team.
Memorable phrase: "Remember, don't use your hands!"
Motorsports Hall of Fame
Bobby Jo Smithson, pit crew co-chief, Jasper Racing.
Memorable phrase: "Check the wiper fluid, boys."
Thoroughbred Racing Hall of Fame
Johnny Lennett, stable cleaner for Amethyst Express
Memorable phrase: "It always stinks in here!"