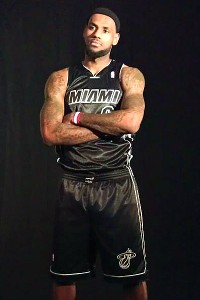 Miami HeatLeBron James fashions the Heat's new black alternate jersey.
With the NBA lockout settled and the season set to open on Christmas Day, many teams are finally holding their annual media day sessions, which is where new uniform details often surface for the first time.
The uni-related highlight of yesterday's media events was a sighting of a new black alternate uniform for the Heat, and sharp-eyed fans may also have noticed a new anniversary patch for the Warriors.
These elements follow up on new alternate uniforms that the Jazz and Kings unveiled last week. And that's still just the tip of the NBA's 2011-12 uniform iceberg. Still to come: a new alternate uniform for the Mavs, a very unusual alternate for the Raptors, a slew of throwbacks (most of which are serious eyeball-poppers), and, of course, this season's All-Star uniforms.
Further info on these developments -- and on all of the NBA's uniform, patch and logo news for the upcoming season -- will be provided in Uni Watch's annual NBA season-preview column, which will run on Page 2 next week.