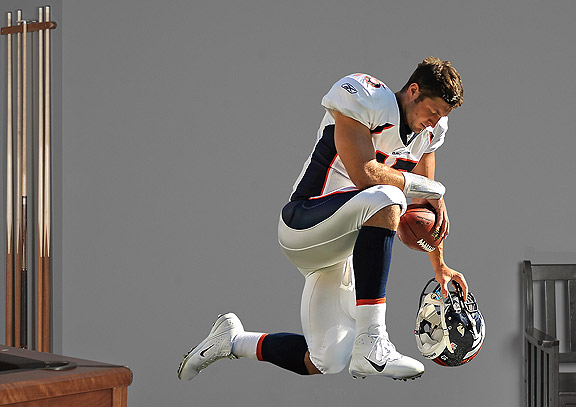 Courtesy of FatheadDue to popular demand, Fathead is producing Tim Tebow wall graphics in his Tebowing prayer pose.
Tebowing.
It's a widespread movement, a recognized word -- and now it's a Fathead, as the prominent wall graphics company put Tim Tebow's iconic pose up for sale Tuesday after an outpouring of demand.
"We had been getting requests on Twitter for I'd say the last few weeks," Fathead spokesman Jake Mahoney said.
The only holdup: finding the perfect Tebowing photo. Fathead finally got it during Denver's Nov. 27 comeback win (aren't they all?) at San Diego.
Then Fathead manufactured the graphic and made it available ASAP.
No big deal, right? Especially since Tebow already had a Fathead.
Uh, sure.
"The traffic to that page was out of control after we first put it up," Mahoney said.
In fact, Tebow now has the No. 1 (Tebowing) and No. 2 (original) top-selling Fatheads this week -- the only athlete to claim the top two spots at the same time in 2011.
"It's popular today," Mahoney added. "Hopefully that continues."
Tebow staying popular? Bet on it. In fact, you can etch that on your wall. Right next to the Fathead.