Isaiah Mustafa is pleased that his alma mater, Arizona State, has hired Todd Graham as its new head football coach.
"I wish him success and as a Sun Devil offer my undying support," said Mustafa, who was a starting wide receiver for the Sun Devils and played in the 1997 Rose Bowl. "I returned in November to watch a game and it was a blast to be back."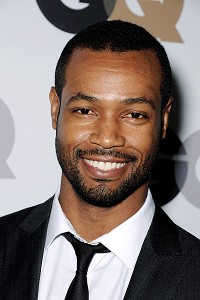 Getty ImagesIsaiah Mustafa was wide receiver for Arizona State in the mid-1990s.
You might not recognize the name of Mustafa, but you likely recognize his commercials: He's the lead character in the series of Old Spice TV commercials "The Man Your Man Could Smell Like."
Mustafa, who was born in Oregon and moved to California when he was young, didn't play football in high school but tried out for an athletic scholarship at Moorpark College in California. He transferred to Arizona State on a football scholarship in 1995.
After college, he was signed to several NFL practice squads, including the Tennessee Titans, Oakland Raiders and Cleveland Browns.
He then got into acting and landed the Old Spice deal in 2010. He's also made appearances in movies such as "Horrible Bosses" and several television shows, including "Hot in Cleveland" and "Charlie's Angels."
"I've been lucky to receive some great offers," said Mustafa, 37. "I'm just a guy who likes to work."
And for this holiday season, Mustafa is donning a Christmas suit as MANta Claus, hoping to give gifts to 7 billion people on Earth.
At the end of each day, Mustafa provides a progress report of how many gifts were given and how many more to go. You can follow the progress via the Old Spice Twitter account, Facebook page or YouTube channel.
"Thankfully, I'll get some time to celebrate Christmas with my family," Mustafa said. "I have a 10-year-old and we do all the traditional things. The day will be special."