Welcome back to another edition of Page 2 Jeopardy!, the quiz that tests your knowledge of sports, pop culture and assorted trivia. Please remember to phrase your responses in the form of a question.
(Correct questions at the end of the quiz.)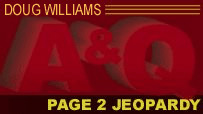 1. Answer: "Powerful and romantic" is how this ex-NFL tight end -- who was forced to retire after several concussions -- describes his style as a singer, his second profession.
2. Answer: This former pitcher, now 37, says he wishes he could go back in time to punch his 23-year-old self in the face, saying he was a "young, hot-headed, idiot kid."
3. Answer: He was named Maybyner Rodney Hilario at birth, but that's not how he's known to NBA fans.
4. Answer: This veteran actor, who says a golf course is the only place he can go "dressed as a pimp and fit in perfectly," usually has a clause in his film contracts that allows him to play golf during production.
5. Answer: Before a "Sunday Night Football" game this year, this NFL wide receiver identified himself as an alum of Seattle's Rainier View Elementary rather than naming his college or high school.
Question 1: Who is Ben Utecht?
Question 2: Who is John Rocker?
Question 3: Who is Nene?
Question 4: Who is Samuel L. Jackson ?
Question 5: Who is Nate Burleson of the Lions?