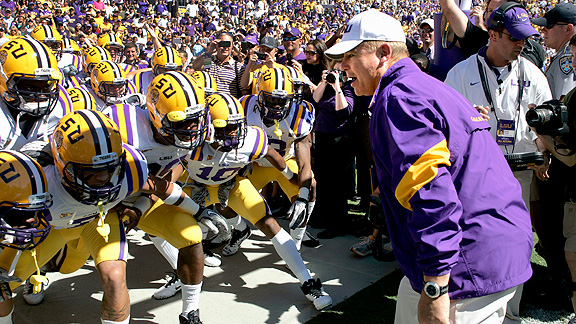 Tyler Kaufman/Icon SMILes Miles and LSU are ready for bowl season. Take our quiz to find out if you are.
Bowl season is upon us, and we know you're ready. But before the games start, there's one final test you must pass to determine your level of readiness. Strap on your helmet and dig in for the quiz that asks: What Bowl Are You?
1. Complete the following statement:
The __________ polls make up two-thirds of the BCS formula and a team's average in __________ computer polls makes up the other third.
a.) Gallup, iMac (-4) b.) Stripper, OK (0) c.) Infallible Human, Six Irrefutable (11)
2. What does the term "at large" mean to you?
a.) That somebody has to shop in one of those special stores to get suits, like Shaq. (-7) b.) It's like making the NFL playoffs but with teams full o' college kids. (2) c.) A team must finish in the top 14 of the final BCS standings to be considered for a BCS at-large berth -- unless there's only one team from its conference in the top 14. Duh! (27)
3. What does .0839 signify to you?
a.) Pi for a Razorback math major (-3.14) b.) The legal blood alcohol limit in Oklahoma. (-3) c.) The number of points Oklahoma State trailed Alabama by in the standings as of midnight Eastern Standard Time on December 2, 2011. (11)
4. What is the last college football game you saw?
a.) New England School of Optometry vs. The Art Institute (intramural, two-hand touch). (-8) b.) 10 minutes of Harvard-Yale at a bar but I asked them to change the channel to that Hal Holbrook movie. (0) c.) I'm watching one right now. I don't know who Farleigh Dickinson is but they've got a hell of a punter. (7)