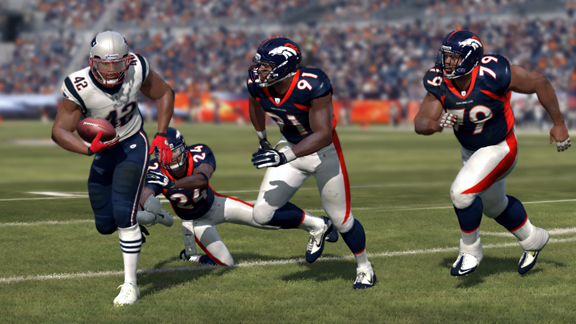 EA Sports
Every NFL game this week has been simulated with the help of EA Sports and "Madden NFL 12" using the game's advanced artificial intelligence, complete with winners, statistical leaders, and even the player of the game.
Check out who "Madden" thinks is going to win before the games are even played, including one of the week's best games, the New England Patriots at the Denver Broncos:
---
The "Madden" simulation was like Bizarro Tebow, as the Denver quarterback played great in the first half, helping the Broncos jump out to a 17-10 halftime lead. But in the second half, Tebow was terrible, throwing an interception with the game on the line, then sitting on the sidelines while Tom Brady and crew scored 17 unanswered to give New England the 27-17 win.
For a box score, and to tab through the rest of the games,
visit The Gamer blog's Madden NFL 12: Week 15 Simulations »