What Joe Budden, his Slaughterhouse crew, Eminem and Yelawolf did to their BET Hip Hop Awards cypher competition wasn't even remotely funny. It was mean, disrespectful. They ran up the score. They had dudes from the show's other cyphers slinking in their chairs, trying to hide from the onslaught of virtuoso MC-ing.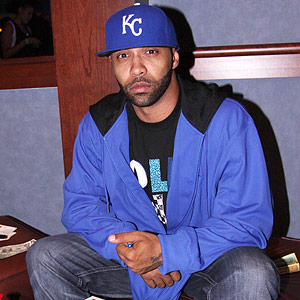 Johnny Nunez/WireImageDon't let the cap fool you, Joe Budden is all about New York sports.
There were plenty of quotables -- Em's Posdnuos rant and Royce's "Hi, Rihanna," which turned into a Twitter hashtag -- but I loved this line from Budden: "The boy's Rodman with the trash talk, Magic or Walt with the black ball, way I bounce off the asphalt with cat paws."
If you're familiar with Joe Budden, you know it's rare for him to go 16 bars without some nod to his second love (or maybe first) -- sports.
He recently spent the day at ESPN, where he appeared on ESPN's "First Take" to debate Skip Bayless. It was a bucket-list item for him. While he was there, we managed to snag him for a conversation.
The Life: You always rep New Jersey, but you didn't move to Jersey until you where, what, 12, right?
Budden: I was about 13 when I moved to Jersey. People always get confused because I'm a die-hard Knicks fan. They're always like, "Aw man, aren't you supposed to rep the Nets?" But nah, I'm a New Yorker. I was raised on the Knicks.