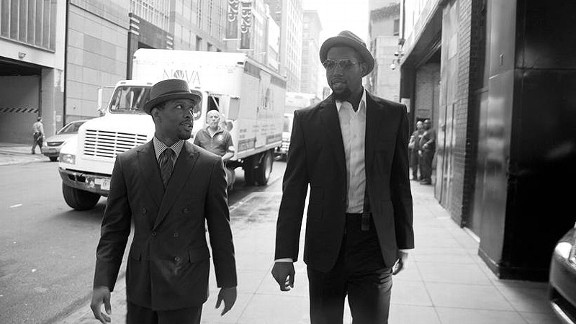 FYI Public Relations Sherman Brown and Sacramento Kings John Salmons are hoping to elevate the fashion world.
John Salmons went to the drawing board -- literally.
The Sacramento Kings guard made good use of his time off during the NBA lockout, and folks will get a good look at his efforts after his first preseason game Tuesday. Salmons co-created a collection with his longtime tailor, Sherman Brown. The two are gearing up for a fall 2012 release, but Salmons says his postgame getup will tease what's to come.
We talked with Salmons, who also serves as the line's creative director, about his new line, his style icon and which players rock the best off-court style.
Did this line grow out of being stuck in the NBA lockout?
"Actually I started this over a year ago. I met my partner, Sherman Brown, when I was playing for Chicago a couple years ago and we became good friends and he talked about fashion a lot. He's a tailor by trade. He made me some clothes, and we both had a passion and we decided to move forward with it. It just so happens over the lockout that it gave me more time to be able to deal with the brand to try to make some key decisions, being around and being able to put my fingerprints on the brand."
You're 6-foot-6. How difficult is it for a guy like yourself to be and feel fashionable?
"It's a challenge. A lot of people, they can order online and they can just find their size. For me, I have to try everything on. If I go shopping in the store, I have to try every pant on, every shirt on, every jacket on, because I don't know if it's going to fit or not. Everything is pretty much hit or miss."
Who's your style icon?
"Growing up, Ralph Lauren. That's who I looked up to. Growing up, we always wanted Polo stuff. That was our goal to try and scrape up enough money to be able to buy some Polo stuff."
Does having your own brand up the ante now for postgame dressing?
"That's what I do on a regular basis, anyway! I love to get dressed. Part of our mission statement is to teach men how to dress. We want to be able to inspire people to dress, to dress like us. That's our whole role: to build the culture, build the brand, have a following."
"What is this season's compressed schedule going to mean for you?"
"It's pretty intense. It's definitely going to be an adjustment period, but everybody has to deal with the same thing. It just comes down to what team can come together fastest and learn to play well. Hopefully we, the Sacramento Kings, can come together and jell quickly and try to get a jump on everybody else."
Who's winning off the court? Aside from you, the best-dressed guy in the league is …
"I know a lot of guys have stylists, and I don't have anything against hiring stylists or anything against stylists. People need stylists, but I feel like if you rely on a stylist, I don't really consider you a great dresser. Your stylist is the real dresser behind you. So, guys who I've played with who I know they go to the stores, they pick out their clothes, is a guy like Jannero Pargo, who is a pretty good dresser. Bobby Jackson, I played with him in Sacramento -- he's actually an assistant coach with Sacramento now -- he's a pretty good dresser. Same with Keyon Dooling."