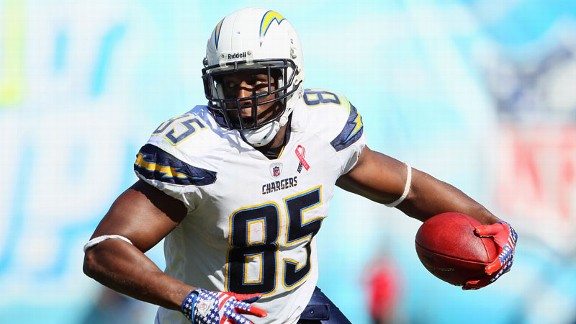 Jeff Gross/Getty ImagesAntonio Gates and his Chargers play Sunday's late game -- and it may be too late.
All-Pro tight end Antonio Gates has a sponsorship obligation to promote the renaming of San Diego's Qualcomm Stadium to Snapdragon Stadium on Sunday, but you can tell in his voice that he's a little worried about the pivotal game against the Baltimore Ravens.
"Destiny is still in our hands," said Gates, who has played only 10 games this season because of some nagging injuries. "Everyone on our roster needs to come together. We've been up one week and down the next."
The Chargers (6-7) are two games behind Denver and the New York Jets for a wild-card spot, though they has won two straight after crushing Buffalo 37-10 last week. The Chargers have outscored their opponents 75-24 the past two games but an earlier six-game losing streak might be too difficult to overcome.
"It's always a disappointment when you don't make the playoffs," said Gates, who has played nine seasons. "You always want to be in the position to win a championship. But you have to understand that everything in life is a learning experience. We're definitely learning something."
And then Gates went back into spokesman mode to talk about the temporary naming rights for the one NFL game and two bowl games -- San Diego County Credit Union Poinsettia Bowl (Dec. 21) and Bridgepoint Education Holiday Bowl (Dec. 28). Snapdragon is a mobile processor made by Qualcomm.
"It's the heart of the smartphone and allows you to watch HD video, play games and search the web without draining your battery too much," Gates said. "I'm really looking forward to Sunday."
Gates and his Chargers had better be ready.