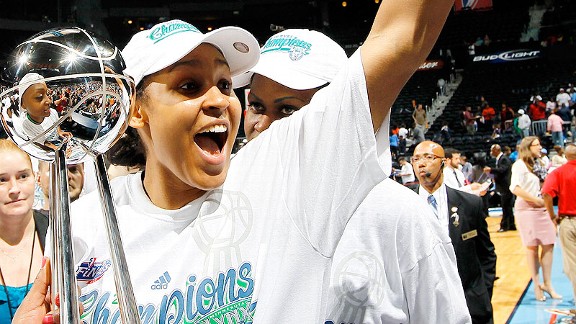 Kevin C. Cox/Getty ImagesOn Tuesday, Maya Moore is working with area youth in Atlanta for her "A Very Maya Christmas."
Maya Moore has two college basketball titles with UConn, a WNBA title with the Minnesota Lynx and a WNBA Rookie of the Year Award.
And she wants to show thanks to all her fans by hosting her first annual "A Very Maya Christmas" -- a free basketball clinic and community holiday celebration at Southwest Dekalb High School for Atlanta area youth on Tuesday.
"I want to leave an impact on these kids, so I came here to get involved," said the 22-year-old Moore, who grew up in Atlanta. "This event is not something with my team or any sponsor. It's just me initiating it, and I want to do this for the children."
The one-day clinic will focus on fundamentals, guest speakers, basketball drill stations, games and contests. Attendees will have the chance to interact with Moore and develop their skills in an environment that encourages teamwork, goal setting, self-confidence and respect.
"It's not all about the titles and victories I have, but it's what it takes to get those results and what are behind the highlights," said Moore, who has won awards at every level of basketball. "I've been blessed to have this opportunity and I hope I can be a positive influence on these students."
After winning two titles at Connecticut, Moore was the first overall pick in the 2011 WNBA draft. She was the third-leading scorer on the Lynx during the regular season with 13.2 points per game on the way to the team's first title.
"I'm trying to be the best I can be, on the court and off," Moore said. "I hope to see my family and friends as we near the holidays. I'm trying to live a normal life and rest my body. But the competitiveness is starting to stir inside. I'm excited to get back on the court."