The tailored suits and fashionable denim found in every professional sports locker room are beginning to share space with a simpler material and garment: the terry cloth bathrobe. Only, this isn't the robe Tony Soprano wore when he waltzed down the driveway to pick up the morning newspaper in "The Sopranos." This one comes with logos licensed by the NFL, NBA, MLB, NHL and 34 colleges.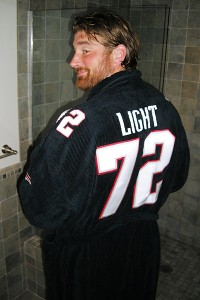 Courtesy of Matt LightSportRobe investor Matt Light models one of his customized products.
SportRobe, which makes the robes ranging in price from $100 to $200, has emerged as a popular choice not only with rabid sports fans but also among athletes.
New England Patriots left tackle Matt Light is one of the company's chief fans, which he should be, given his role as a SportRobe investor. Light has initiated word-of-mouth marketing by wearing a Patriots robe, with his surname and No. 72 on the back, inside the team's locker room at Gillette Stadium. His teammates have taken notice.
"One time I wore my robe, Chad [Ochocinco] was like, 'Oh man, I got a Bengals SportRobe, I love these things,'" said Light, a three-time Pro Bowler and one-time All-Pro, in a telephone interview. "So we ended up getting him a Patriots one."
Light and SportRobe founder Matt Frost explained that athletes ranging from New York Jets quarterback Mark Sanchez to outfielder Johnny Damon, in his stints with the Detroit Tigers and Tampa Bay Rays, have bought robes for their teammates.
"Light was instrumental in helping us get them into different NFL [locker rooms]," Frost said over the phone.