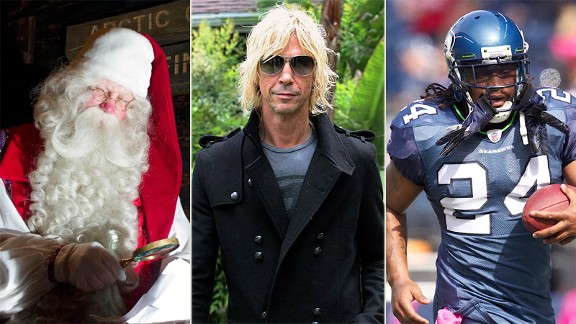 Getty ImagesHey, Santa, Duff McKagan has some heartfelt holiday wishes for you and everyone.
In recent memory, I cannot seem to remember the fact that so many NFL teams are still in the hunt for a playoff spot this late in the season. Especially those teams with .500 records or sub-.500 records.
This NFL season has been a real "head scratcher" for sure. For instance, my own beloved Seattle Seahawks came out of the gates this year like scared fawns in a forest fire. No offense. No real quarterback to speak of. No spark.
Conversely, the Oakland Raiders came out of nowhere and seemed to have gotten their groove on early this season. Then just as it seemed that they were back, the Raiders went on a losing streak of the grandest kind.
The New York Jets? Who are they?
The New York Giants? Man, I thought they were getting on cue for the late season.
The Philadelphia Eagles still in the hunt at 6-8?
The Kansas City Chiefs suddenly believing in themselves and beating the previously unbeaten Green Bay Packers? And, Kansas City is still not mathematically out of the playoff picture? Whoa.
• Click here to read Duff McKagan's entire column in The Life