Ben Utecht called on a Monday. Earlier that day, he thought it was Wednesday. Such is the hectic life on tour for the football player-turned-musician.
"I thought the NFL schedule was intense," said Utecht, a former Super Bowl-winning tight end with the Indianapolis Colts who's now singing on the Jim Brickman Christmas Celebration Tour that hits 32 cities in 35 days. "I'm definitely experiencing what it's like to really work in the music industry."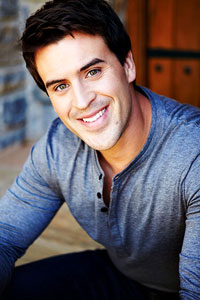 Courtesy of Ben UtechtFormer Colts and now singer Ben Utecht is performing Dec. 28 in Indianapolis.
Utecht has always lived a dual life, balancing football and music throughout high school. Once his football career was derailed due to concussions, music came calling. He recently put out his first album, "Christmas Hope," featuring the 6-foot-6, 245-pound tight end singing "White Christmas" and "First Noel," among others.
The tour schedule can be demanding -- Utecht compared the feeling to the NFL season's midway point, when "your body doesn't feel like it's working" -- but his football background and angelic voice have combined to make Utecht a major draw. Well, that and the Super Bowl ring.
"Jim Brickman is America's romantic piano sensation, so I think guys get a chance to see an NFL guy come out on stage and do that, it kind of brings more fun and something they can connect with on stage, which I think makes it more enjoyable," Utecht said. "A ton of people ask to see the ring after the show. What brings me so much joy in winning the Super Bowl is the fact that I get to share it with people who won't get that opportunity ever again."
To his knowledge, no former teammates have attended any concerts, but Utecht will perform in Indianapolis on Dec. 28. He expects a few Colts to be present, maybe even the legendary quarterback who Utecht credits with helping ready him for a career in singing.
"I had a chance to learn what it was like to prepare for a football game behind Peyton Manning," Utecht said. "He's a part of a very small grouping of guys that prepare that way, so I had a chance to gain wisdom from that. I bring that over into the music preparation too. I'm singing 10 to 12 songs every night, and each of those is 3 minutes long, so if you start to get too relaxed, that's when mistakes come."