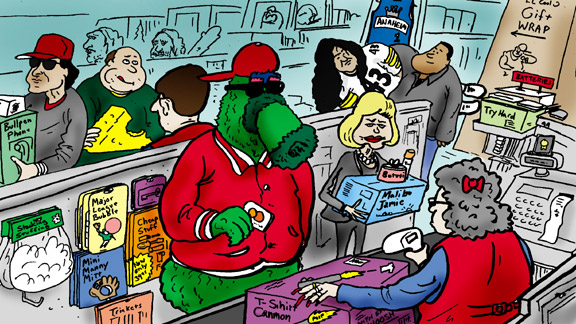 Kurt Snibbe/ESPN.com
Stressed over what to get for that special fan in your life? Relax! We have your back with the least popular Christmas presents for 2011, all available from the Page 2 Wish Book!
TOYS
Tackle Me Polamalu: Adorable meets painful when your child hugs our life-size 220-pound plush-toy safety! When his hair is pulled, Tackle Me Polamalu emits a blood-curdling howl and then collapses on the tot with all the force of a ferocious blindside hit. $89.95. (Not recommended for children under 6 feet tall.)
Fenwaygotchi Virtual Pet: A few years ago, the Tamagotchi taught children the unending demands and responsibilities of raising a pet. We take it to the next level with the irritating new toy that demands 24/7/365 attention. And even that isn't enough. The Fewnwaygotchi emits a horrible, ear-piercing whine demanding the manager's immediate firing whenever its beloved Red Sox lose a game, miss the postseason, raise ticket prices or senses that your complete, 100 percent focus is not on it and it alone. $39.95. (Unlike the Tamagotchi, no matter how many times you push the pause or re-set button, the Fenwaygotchi never shuts up, not even when the season ends, or when the battery runs dry.)
Malibu Jamie McCourt doll: If you loved Malibu Barbie, your daughter will loathe Malibu Jamie! To keep her happy, the middle-aged blonde doll requires $2.5 million dollhouses in Malibu, Vail, Cabo San Lucas and Cape Cod, plus a $150,000 yearly hair-care allowance and a personal astrologer. (Chavez Ravine Frank now sold separately.)
OUTDOORS AND RECREATION
T-Shirt Cannon: Why kill Bambi's mother when you can instead warm her up in an Arian Foster, Tim Lincecum or Kevin Durant T-shirt? Rather than kill defenseless animals, hunters can take aim with our line of cannons, just like the ones teams use to fire T-shirts into the stands. Finally, a weapon that both PETA and the NRA can embrace! $249.95. (T-shirts ammunition and scantily clad female cannon loaders not included.)
Tim TeBow-Flex Machine: The latest in home exercise equipment, our machine utilizes a unique system of resistance from NFL coaches and players to finely sculpt your body until you have the balance and grace to literally walk on water with the arm strength to complete up to four passes in a single game! You'll either love or hate it -- probably both! $1,299.