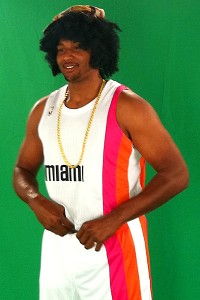 Courtesy of Miami Heat Miami Heat center Dexter Pittman models the team's uniform tribute to the old Floridians of the ABA.
The annual Uni Watch NBA season preview column, which was posted here on Page 2 Wednesday, mentioned that there were nine ABA-based throwback designs still waiting for their official unveilings. Now, the first one has already shown up: The Heat will play several games dressed as the old Miami Floridians.
This isn't the first time the Heat have resurrected the Floridians' look. Back around 2004, they wore the black road version, instead of the white home design they'll be going with this time.
"It took a bit of convincing to get the players to embrace the design, what with all that magenta," says Heat chief marketing officer Michael McCullough. "You'll notice I said magenta, not pink." Whatever you say, Michael.
The Floridians uni, which the Heat will wear for six dates (Jan. 21 and 22, Feb. 5 and 7, and March 6 and 7), gives the team a staggering six uniform designs for this season: home, road, red alternate, "Back in Black" alternate, "Latin Nights" alternate, and now the Floridians design. Why stop there? Go for lucky seven!