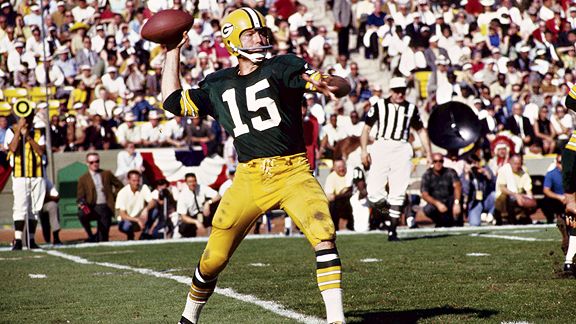 Malcolm Emmons/US PresswireGreen Bay Packers legend Bart Starr makes Page 2's All-Nativity Team for the holiday season.
Welcome to a Nativity-scene reference without the mess caused by Constitutional challenges or barnyards. It's Page 2's All-Nativity Team. No gifts, please.
Matthew Luke: The former Dodger, Indian, Angel and Yankee hit 15 homers in 269 career at-bats in the Majors. This, admittedly, isn't the sort of track record that history remembers, but he's the only player named after the only two gospels that reference the birth of Jesus. Hence his presence on the team. In case you're curious, his middle name is neither Mark nor John. It's Clifford.
Albert Manger: Before there were steroids, there really was weightlifting, and while there wasn't room at the medal stand for Albert in the 1932 Olympics, there was at least room in the competition. Manger took fifth in the Los Angeles Games.
"Ox" Miller: John Anthony Miller was a pitcher by trade, but he fared better on the other side of the fence. In parts of four MLB seasons in the mid-1940s, he threw to a 6.38 ERA while hitting .259, and he makes this squad because oxen are frequently depicted in Nativity artwork even if history suggests they weren't all that abundant in or around Bethlehem back in the day. Of course his given first name is John, which is reason enough to put him in the scene.
Bart Starr: Just how different was football in Starr's day? He threw only 217 passes in college and got drafted anyway. Granted, the Green Bay Packers didn't take him until the 17th round in 1956, but they were apparently on to something. He completed 57 percent of his attempts through 16 seasons, during which the NFL average struggled to hit the break-even point. Because he played before the Super Bowl era, many of Starr's shining achievements now seem obscured.
Skip Wise: Sadly, the point guard didn't live up to the standards of his last name; he frittered away the amazing talent that made him a first-team All-ACC player as a freshman at Clemson. He left school to go to the ABA after that breakout season and lasted only one year. Just as Michael Jordan was preceded by David Thompson, Chris Paul was preceded by Wise -- who wasn't. Trust us on this one.