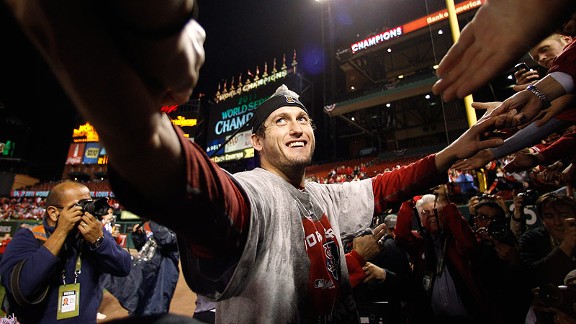 AP Photo/Eric GayNo surprise that St. Louis Cardinals David Freese makes the list of "Nice" for 2011.
Let's face it, over the course of a year, every decision we make -- all of our actions in work or play -- lead to one question: "Will this land me on Santa's naughty list, or his nice list?"
This goes for sports, too. So Page 2 baked some extra cookies for a trip to the North Pole to bribe Santa into letting us take a look at his rulings. Two dozen Snickerdoodles later, and we were flipping through Santa's master list.
We've left off the obvious ones: Liars, cheaters, cover-ups, ill-advised tweets by athletes, breaking NCAA rules, ego-mania parting gifts to girlfriends -- these all make the naughty list. Historic collapses surrounded by fried chicken and video games? Santa would deem these "naughty" every year.
On the other side, Santa loves a good sports story; the Green Bay Packers, St. Louis Cardinals, Dallas Mavericks and Boston Bruins make the nice list for winning championships. For individual achievements and records by Derek Jeter, Rory Mcllroy, Devin Hester and Tony Stewart: nice list, too.
And of course, the NFL and NBA lockouts: naughty.
Here are some of Santa's other decisions for 2011:
NAUGHTY
Chicago Cubs: The Cubs extended the major-league record for most consecutive seasons without winning the World Series to 103. Santa thinks 103 years is an awfully long time for anyone not living at the North Pole.
George Clooney: Santa wonders what is wrong with him. For some reason he was unable to make a relationship work with Italian-model/homemade-pasta-sauce-making/Dancing-with-the-Stars-contestant Elisabetta Canalis. Was it really so unbearable?
Alex Rodriguez: Starting the year off with cameras catching your girlfriend (Cameron Diaz) feeding you popcorn at the Super Bowl has to be a sign things will not go well. Rodriguez this year had the unfortunate luck of a DL stint, did not continue his major league record for most seasons with 110 or more RBI nor his major-league record of most seasons with 30 or more home runs. There was also the saga of having the company he works for (Major League Baseball) upset about his poker games.
Roy Williams: Santa gets a lot of letters in the mail at the North Pole. He has never received an engagement ring. Williams is not on the naughty list for mailing such a ring to his girlfriend -- but he is for his faith in the United States Postal Service.