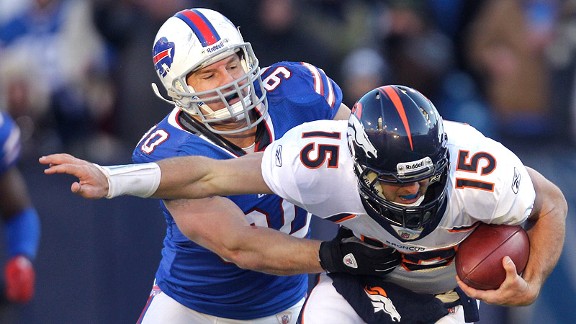 AP Photo/David DupreyDenver Broncos' Tim Tebow is sacked by Buffalo Bills' Chris Kelsay during the fourth quarter Saturday.
Here it is, the last reader-generated Top 10 list of 2011. Time sure flies when you're having fun, even Tebow Time.
We've had lists that have touched on numerous topics, most of them topical at their time. Early in the year we listed the "Top 10 Clues You're Obsessed With Super Bowl XLV," soon followed by "Top 10 Things To Do Without Football," and remember when we feared that we might have to do that one again and again?
But we moved on with lists such as "Top 10 Hints Tiger Woods Is Not Ready," and we were right about that. Then in April we did "Top 10 Reasons Heat Won't Win the Championship," so we nailed that. And so on and so forth.
Still, almost regardless of the topic, two names kept creeping into the lists. The first was Brett Favre, then it was Tim Tebow. So it only seems right to honor one of them as the subject of the year's final list.
Seriously, what do we have to say about Favre? He's on a tractor somewhere in Mississippi or maybe playing one last game of touch football in his jeans. We salute you, Brett, but we must move on.
That leaves Mr. Tebow. What a year, huh? From fourth-string NFL quarterback to a starter that had about a six-week run less probable than a Hollywood sports movie. Granted, he and the Denver Broncos have taken their knocks in the last two weeks, which just adds to the drama for 2012. Has anything been decided? Has anyone changed their mind on whether he's a football savior or perhaps just a savior?
What's in store for Tim Tebow in 2012 -- a year when some think the world will end?
That's what we want for the final list of 2011 -- suggestions for "Top 10 Predictions for Tim Tebow in 2012." And if you should be new to how we roll, we want to build a "Dave Letterman-style" list that is meant to produce a chuckle instead of a wizened nod or angry snarl. In other words -- try to be funny.
As always, send your suggestions to osogreene@aol.com -- and please include your first name, initial of your last name and your city. We can't give you a moment of fame without that information. You have until noon Wednesday for the list that will appear here Thursday.
Tim Tebow Time -- one more time.