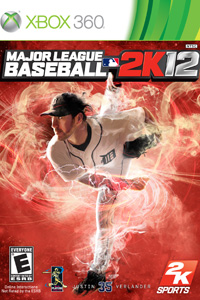 2K SportsVerlander covers "MLB 2K12."
2K Sports finally unveiled the cover artwork for the upcoming "MLB 2K12" featuring Detroit Tigers ace Justin Verlander, and I have to say, they've definitely delivered another stunner.
The artwork was created by Adam Larson of Adam&Co., and if the style looks familiar, it's because Larson also designed the Michael Jordan, Larry Bird, and Magic Johnson covers for "NBA 2K12."
Check out my recent interview with Verlander about 2K covers and no-hitters, then look for the AL MVP to take the virtual mound once "MLB 2K12" hits stores March 6 for the Xbox 360, PlayStation 3, Nintendo Wii, PlayStation 2, PSP, DS, and PC.
How did you first find out the news that you'd be on the cover?
"When I found out, I was extremely excited," Verlander said. "My agent called me and broke the news, like unwrapping a present. He knew I'd be pretty excited about it."