Welcome back to another edition of Page 2 Jeopardy!, the quiz that tests your knowledge of sports, pop culture and assorted trivia. Please remember to phrase your responses in the form of a question.
(Correct questions at the end of the quiz.)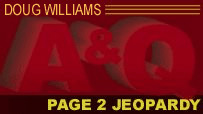 1. Answer: When a diner at the annual pre-Rose Bowl "Beef Bowl" started to choke on a piece of food, this Oregon Ducks lineman, a former Eagle Scout, stepped in to perform the Heimlich Maneuver.
2. Answer: This NFL wide receiver, the son of a major league GM, used to serve as a spring training batboy and play catch and hang out in the clubhouse with his favorite ballplayers.
3. Answer: At 41, this NBA coach still plays "Dungeons & Dragons" with his son, a game he's been passionate about since his days as a Dungeon Master in middle school.
4. Answer: As a former college and NBA player, he was known for his dribbling skills and a particular cross-over dribble move that now bears his name.
5. Answer: A poll released by Nielsen and E-Poll Market Research indicates he's the "most hated player in the NBA, " outpolling LeBron James (No. 2) and Kobe Bryant (No. 3).
Question 1: Who is Mark Asper?
Question 2: Who is the 49ers' Kyle Williams?
Question 3: Who is Mike Brown?
Question 4: Who is God Shammgod?
Question 5: Who is Kris Humphries?