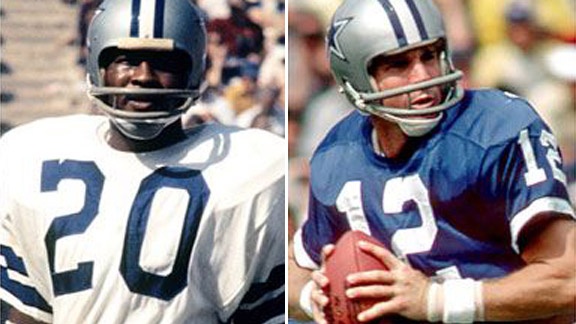 AP Photo, US PresswireMel Renfro and Roger Staubach formed one of the best 20-12 combos in NFL history.
Bring on the year 2012.
On the Chinese calendar, it's the Year of the Dragon. On the Mayan calendar, it's the year we all implode like the Red Sox in September. Supposedly the ancient Mayans predicted the end of the world for Dec. 21, 2012, just in time to leave us all in suspense about the NFL wild-card races.
But to those in sports -- or who follow sports -- numbers can hold special meaning (why else would Clinton Portis pay $18,000 to a Redskins teammate for the right to wear No. 26?), and 2012 can mean plenty.
Aside from being a somewhat goofy movie with John Cusack, "2012" also is an array of numerals that can link Ray Rice, Catfish Hunter, Carl Lewis, a couple of outstanding Dodgers teammates, the Beatles, former Cavs All-Star forward Mike Mitchell and President James A. Garfield.
How so? Read on:
THE MILESTONES
Little big man: Ray Rice is just 5-foot-8, but while playing for Rutgers he became the first player in Big East history to rush for more than 2,000 yards in a season, totaling exactly 2,012 in 2007.
Kareem's career: He's the NBA's all-time career scorer, but Kareem Abdul-Jabbar also came into the league as a dominant rebounder, too. (Just ask his biggest fan, Roger Murdock, of "Airplane" fame.) Abdul-Jabbar played 20 seasons in the NBA and for 12 consecutive years averaged more than 23 points and 10 rebounds.
Catfish: Jim "Catfish" Hunter threw a perfect game, won 224 games and was elected to Baseball's Hall of Fame. He wasn't a strikeout pitcher but got his share, finishing with 2,012 whiffs in nearly 3,500 innings.
The ball was slippery: Mack Calvin played 10 seasons in the ABA and NBA and was known as a quick, 6-foot scoring guard. But he also turned the ball over 2,012 times, including an ABA-leading 356 in 1970-71.