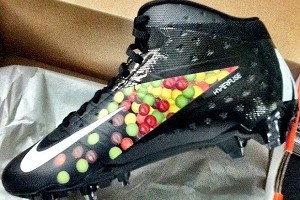 NikeHere's the offending shoes that cost Seattle running back Marshawn Lynch $10,000.
Marshawn Lynch's love of Skittles now has cost him $10,000.
The Seattle Seahawks running back, violating the league's uniform policy, was fined $10,000 for wearing cleats with a Skittles pattern against the 49ers this past weekend. This is the second time Lynch was fined this season, as earlier he wore green socks against the St. Louis Rams. For wearing green socks he was fined $5,000. So technically, this is his second offense.
Lynch has always loved the candy, saying his mom used to feed him Skittles in high school after he would score a touchdown, and the tradition has continued to his day.