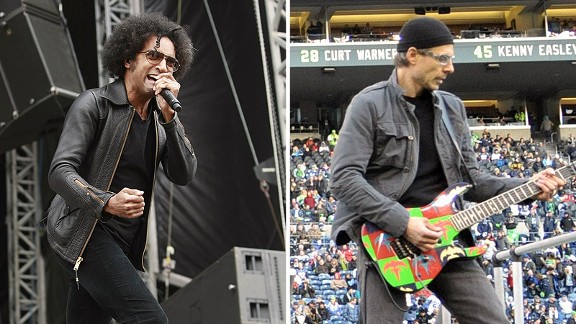 Getty ImagesWilliam DuVall, left, leads Chris DeGarmo, right, 123-66 at halftime of the championship.
Alice in Chains lead singer William DuVall has jumped out to a 123-66 lead after one half of the championship game in the third annual Alice in Chains & Friends Fantasy Football Charity League.
DeGarmo's Mach Six's were the highest-scoring team in the league but had a bad time to have their lowest output of the season in the first half of the two-week final. The main culprit was Dallas Cowboys quarterback Tony Romo's zero fantasy points against the Eagles because of an injured hand.
The former Queensryche guitarist doesn't have another QB to turn to on his roster, so his choices are picking up something off the free agent scrap heap or taking his chances on a bum Romo in the Cowboys' must-win game against the New York Giants.
"I'm sticking with Romo. How effective he will be remains to be seen," DeGarmo said via email.
A formidable running back corps also betrayed DeGarmo last week. Philadelphia Eagles running back LeSean McCoy was suddenly ineffective, picking up just four fantasy points last week. He remains the top-rated fantasy RB, but is listed as probable with an injured ankle.
• Click here to for the rest of the AIC&FFFCL preview and a list of auction items