For many college football players, going to a BCS bowl game is the be-all, end-all of human existence. It's the perfect blend of business and pleasure -- competing for a championship on a national stage after enjoying a week-long vacation in a pulsating city.
But as the fifth-year senior long snapper on Virginia Tech's football team, I have held my tongue far too long -- bowl games are way more pleasure than business.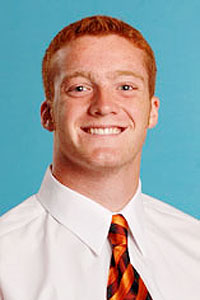 Courtesy of Virginia TechCollin Carroll is a long-snapper for Virginia Tech and wrote a column on his bowl experience.
Allow me to preface this by expressing my deepest appreciation to the Sugar Bowl committee for the countless efforts they have made to give us an unforgettable experience. And they have. However, our culture has made bowl games more about rewarding players for a magical season than bringing home a victory -- a conundrum head coach Frank Beamer is well aware of.
"You want it to be a reward," Beamer told The Virginian-Pilot, "but really, what happens in the big picture is, it's important to win these bowl games."
Beamer's bowl season doctrine is not unlike efforts to "keep Christ in Christmas," even though materialism is far sexier. Without the wisdom of a seasoned coach like Beamer, it would be easy to lose sight of the true meaning of bowl season amid innumerable distractions.
Take, for example, the myriad gifts we receive for participating in the game. We're pampered with a smorgasbord of sweat suits and a shopping spree in the Graceland of electronic devices. We kick back in a four-star hotel on the Mississippi River, in one of the most vibrant towns this side of the "Old Man."
For the seven days we spend in New Orleans, we received a per diem check totaling $450.71. That equates to $64.39 in daily spending cash, when we already receive roughly two meals and two snacks from the team per day. The Sugar Bowl committee also brought us to a bowling alley, New Orleans' finest steakhouse, and a Mardi Gras float parade that included a visit from the Saints' cheerleaders. What on earth could we possibly need all this money for?
Here's the scary part: I can think of a few options.
Across the street from our digs is an 115,000-square-foot casino. Six blocks northwest of our hotel is the most decadent stretch of pavement known to man; and trust me, men know it all too well. Bourbon Street boasts 10 gentlemen's clubs along its eight blocks. I'm not saying our players have succumbed -- I'm simply shedding light on the gravity of our temptations.