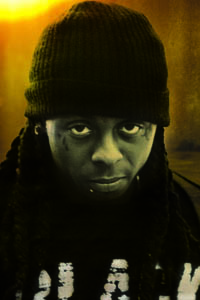 Courtesy TrukfitHip hop king Lil Wayne taps into his skateboarding roots to launch new clothing line this week.
A grammy award-winning hip hop artist is tapping his roots in skateboarding and street culture to inspire a new clothing line set for launch in California this week.
Louisiana-born Dwayne Michael Carter, Jr., better known as Lil Wayne, will debut his Trukfit apparel line at the Agenda trade show in Long Beach. The event runs Thursday-Friday at the Long Beach Convention Center, showcasing emerging and established brands from the fashion and action sports industries.
"Trukfit … is well-made, stylish and edgy," according to Sarah Cunningham, one of the brand's public relations representatives. "It also has mass appeal … everyone will be able to enjoy the quality and design. So many brands that live in the skate world have a narrow vision and are limited to just that arena. This ability to live inside and outside of the skatepark is something our team worked hard on, with Wayne as our inspiration. On a given day, Lil Wayne will go from spending time with his family to a recording session to a performance to a late-night skate session. Trukfit reflects that lifestyle."
Cunningham added that Lil Wayne has been skating "for awhile," hitting up spots all over the world while on tour, often breaking away after a show to ride the local park.
"Many of the artists on his Young Money label -- such as Lil Twist and Cory Gunz -- also skate," she said.