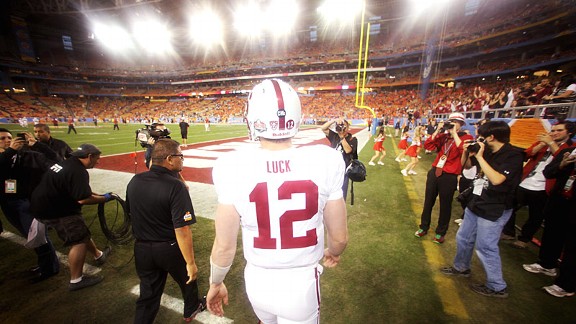 Donald Miralle/Getty ImagesAndrew Luck doesn't have to enter the 2012 NFL draft. In fact it might be a excellent idea not to.
Andrew Luck is the presumed No. 1 pick in the 2012 NFL draft. But he doesn't have to leave Stanford. He has a year of eligibility remaining.
Andrew, look at the teams waiting to draft you. Make a smart decision.

1. Indianapolis Colts: It's a franchise in disarray. The owner just canned the vice chairman and GM. The head coach is probably on the way out, and everyone knows the franchise quarterback doesn't want you around. You have a Stanford education. You're smart enough to know this is a situation you want to avoid.

2. St. Louis Rams: The Rams probably wouldn't draft you anyway, because they have Sam Bradford. But maybe they need more than one good quarterback. With their offensive line -- the Rams allowed a league-high 55 sacks and 114 quarterback hits -- they go through them pretty quickly. Avoid the Rams if you value your health at all.

3. Minnesota Vikings: Even if Adrian Peterson returns from injury to start the season, he won't be 100 percent. So it would be the Andrew Luck-Toby Gerhart show again, a show that took Stanford all the way to the 2009 Brut Sun Bowl! As you can imagine, your average Brut Sun Bowl team would struggle against the Green Bay Packers.