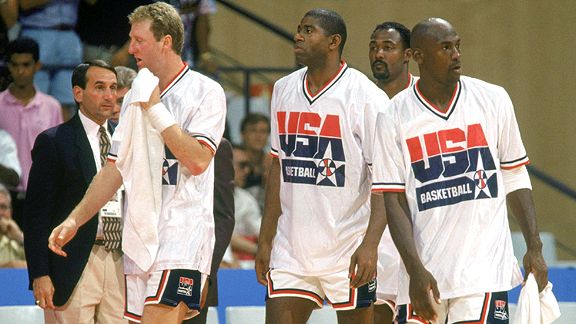 Mike Powell/Getty ImagesThe Dream Team won gold at the 1992 Olympics. It didn't go 8-8 in the NFC East this season.
Once again, Michigan's Lake Superior State University has released its list of words that must be banned -- things like "occupy" and "baby bump."
Here at Page 2 Superior State University, we have some sports terms we want removed from the sports lexicon. Among them …
• Dream Team: Unless you're referring to 1992 U.S. men's basketball. Or the cast of "Inception." Most definitely not the Philadelphia Eagles.
• Lockout: After 2011, we don't want to hear this word for a long time. Not even if you're locked out of your car. Call someone else. We're not interested.
• Myself: A lot of athletes say "myself" when they just as easily could say "me." After a while, that becomes really annoying to ourselves.
• Scoring the basketball: Akin to "running the football," "hitting the baseball" and "jumping the equestrian rail."
• Controlling one's own destiny: Not anymore! Merriam-Webster says so!
• Due diligence: No one uses this term unless they're dodging media questions about a free agent/coaching search. We know this, because we did our due diligence researching it.
• No. 1 draft pick: As opposed to No. 1 water pick? No. 1 state lotto pick? No. 1 pick of destiny?
• Suck for (blank): Special circumstances made "Suck for Luck" work. First, Andrew Luck would have been the No. 1 draft pick (oops) a year ago. Second there's, well, the rhyme. Third, catchiness. "Rentin' with Avis" for Anthony Davis just doesn't have the same ring. Nor does it make any sense.<
• The quarterback position: Luck surely can play quarterback in the NFL. But can he play the quarterback position? Much more difficult, apparently.
• Tebow Time: … at least until we can figure out what this actually means!