I'm well-armed to rattle off a boatload of excuses as to why we choked the bunny Tuesday night in the Allstate Sugar Bowl against Michigan -- and none of them involve Justin Myer.
In fact, the senior kicker from Manheim, Pa. didn't just keep us in the game. The guy carried us. Myer was four-for-four on the night, including a 25-yard field goal with two seconds remaining in regulation to force overtime.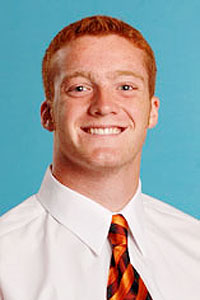 Courtesy of Virginia TechCollin Carroll is a long-snapper for Virginia Tech and wrote a column on his bowl experience.
But the only one he'll remember was the 37-yarder in overtime that he pushed wide right.
"It didn't come down to a field goal," wide receiver Danny Coale told the Washington Post. "There were so many plays in that game. We should have capitalized on some points early on. [Myer] gave us points with those field goals when we should've had touchdowns. He played a helluva game stepping in there and nailing those field goals. It shouldn't have been a field goal game."
While there are plenty of "shouldn't's" our players and fans will forever remember about that game, perhaps the most glaring was Myer's presence on the field during fourth downs. After the first two kickers on our depth chart were ruled ineligible due to disciplinary issues, Myer was thrust into the spotlight -- a place he would normally just as soon forgo.
As one of Myer's closest friends on the planet -- at least, that's what I consider him -- I can personally testify to his humility, unselfishness, and borderline diffidence. Knowing this, I don't consider Myer's performance a failure by any stretch of the imagination. To me, it was the most divine example of courage I've seen in my five years as a college football player.
Over the course of this week, I saw Myer go from a strong but shaky kicker who had missed his only two attempts ever, to the most poised kicker the BCS will see this year.