The Houston Astros announced the hiring of Sig Mejdal as the "director of decision sciences," a position that involves developing complex analytical systems for deciding the best route for not losing 106 games. Or something like that. Long gone are the days when a coaching staff consisted of the head coach, the assistant coach, and the guy who popped shoulders back into place, and we can only expect things to get more convoluted. It's unclear what the coaching staff of the future will look like, but here at Page 2 we've used our own brand of decision sciences to make a few predictions.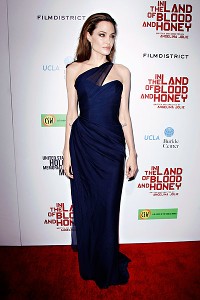 AP Photo/Danny MoloshokThe Toronto Raptors could use someone like the worldly and sophisticated Angelina Jolie.
• The Miami Heat's medical staff will hire a senior ego masseuse to help rub out any emotional distress that accumulates late in the season.
• In response to recent outrage among fans that Montreal Canadiens interim head coach Randy Cunneyworth doesn't speak French, the Habs will put Pepé Le Pew on payroll as a cultural coordinator. His duties will include bridging the language gap between fans and the coach and seducing opposing players away from the puck.
• The Toronto Raptors will recruit Angelina Jolie to be the senior nationality coordinator, soothing any ethnic conflicts that might erupt on their diverse roster with her wise maternal touch.
• The Cleveland Browns will hire a senior director of perspective softening, whose job will be to say things like "Boys will be boys" and "He told us it was just a little bonk on the head" to the media when the team decides to send concussed players back into the game.
• The Buffalo Sabres will hire a director of sabermetrics but will be sorely disappointed in his lack of sword knowledge.
• The Oakland Raiders will bring an executive from Goldman Sachs on staff to show them how to mortgage the future and still go bankrupt.
• The Boston Red Sox will create a director of lard relations position to serve the nutritional needs of their ballooning roster.