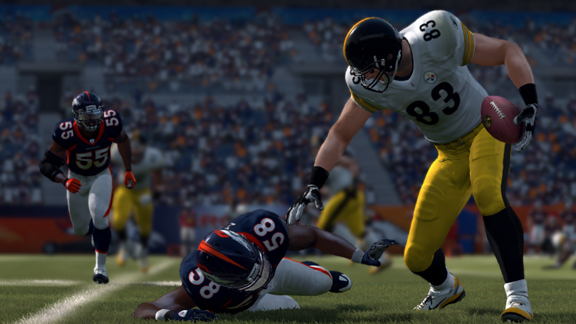 EA Sports
Every NFL game this week has been simulated with the help of EA Sports and "Madden NFL 12" using the game's advanced artificial intelligence, complete with winners, statistical leaders, and even the player of the game.
Check out who "Madden" thinks is going to win before the games are even played, such as Sunday's matchup between Pittsburgh Steelers and the Denver Broncos:
---
When Denver jumped out to an early 10-3 lead, it looked like Tebow-mania was going to run wild for at least one more week. But then the Steelers defense really stepped up, limiting Tebow to just seven completions for the entire game while forcing a key interception as Pittsburgh dominated the second half to pickup a hard-fought, 20-13 victory.
For a box score, and to tab through the rest of the games,
visit The Gamer blog's Madden NFL 12: Wild-Card Week Simulations »
Or check out individual games:
Cincinnati at Houston | Detroit at New Orleans
Chicago at New Orleans | Atlanta at NY Giants