To celebrate Follow Friday (#FF) on Twitter, Page 2 joins the fray by recommending a unique sports figure to follow each week in order to enhance your social media experience.
If you don't know much about Pro Bowl wide receiver Wes Welker, you might assume he's just another boring Patriots robot -- a player who gets the job done, displays little emotion on the field and lacks personality.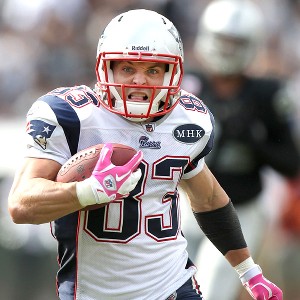 Jed Jacobsohn/Getty ImagesNew England Patriots receiver Wes Welker is not
an emotionless cyborg! You read it here first.
Wrong.
Check out @WesWelker on Twitter. You'll likely ask yourself, "Is this really Wes Welker?" Thousands of people have done just that after doing a double take on his profile.
It is indeed Wes, and as it turns out, he's interesting and funny.
Welker has used Twitter to do everything from interacting with fans about "Teen Mom 2" to sharing photos from his personal life. Welker even took time to address the NFL on his recent $10,000 fine for wearing an unauthorized hat. He also checked in with Ochocinco to see if his fine earned him any street cred.
But Welker's finest moment on Twitter probably occurred late last year when he asked his followers for ideas on pranking his teammates. Welker asked, "What if I cleared someone's locker out and made it seem like they got cut. Have a note that says, 'See BB!' Too far?!"
Responses flooded in, and a follower named Matthew Henderson replied with perhaps the funniest idea: "Take away Vince Wilfork's lunch money."
Welker smartly replied, "I said prank! Not a suicide mission!"
Not quite an emotionless robot after all.
@WesWelker Foxboro, MA Professional tweeter that wastes his talents playing American Football.