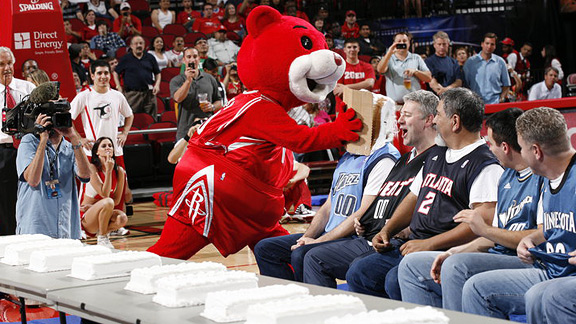 SportsAndFood.comCake is a staple of Clutch's in-game entertainment rotation at Houston Rockets games.
HOUSTON -- Mascots need food too. That's something I quickly learned after I shadowed Clutch, the Houston Rockets mascot, at their home opener against one of their Texas rivals, the San Antonio Spurs. While players only play for 48 minutes, fans are in their seats for two hours -- that's a whole lot of entertainment the Hall of Fame mascot has to provide to a sold-out crowd of 18,000 inside the Toyota Center. And to provide said quality entertainment, sustenance, along with copious amounts of water, is crucial.
I had the chance to grab dinner with Clutch (or Robert Boudwin, the 17-year veteran inside the costume) at his favorite Houston restaurant, Mo's, earlier this week over sea bass and a medium rare steak.
If you've ever had even an inkling to know what the fifth-most recognizable mascot of all time (as named by USA Today in February 2005) eats day and night, here it is:
You run around the Toyota Center like a mad man, sorry, bear. How much water do you drink?
At least a gallon and I like it with snow cone ice (the kind you get from Sonic)
If you could bring any fast food chain into the Toyota Center, what would it be?
It's a TIE between Boston Market and Chick-fil-A
Not to be rude, but you're kind of big and awkwardly shaped. You must spill a lot of food when running around in the aisles and seats. What do you spill the most of?
Sheet cakes get accidentally and intentionally spilled/dropped all the time. Especially on opposing team's fans.
Speaking of cakes, you are pretty fond of them during your in-game activities. Do you have a favorite flavor?
I like carrot cake the best as long as it is moist. It is the cream cheese icing that I like it for. I like chocolate to throw because it makes the best and most visible mess.