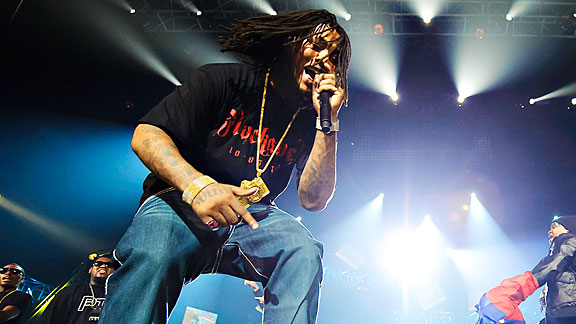 AP PhotoWaka Flocka Flame says his New York Giants will make the Super Bowl and win.
The 2011 NFL postseason officially kicks off on Saturday, and like the rest of us, many high-profile artists will be glued to their TV and rooting for their favorite team. To celebrate the NFL playoffs and get some predictions on the first-round matchups, Billboard.com spoke with eight artists about their favorite pro football teams and how they see their beloved teams faring in the race to the Super Bowl.
Artists like Mac Miller, Waka Flocka Flame and Birdman remained confident in their squads, while the Fray guitarist Joe King and Roscoe Dash were cautiously optimistic about the chances of the Broncos and Falcons, respectively.
Check out all of the NFL Q&As here at Billboard.com.