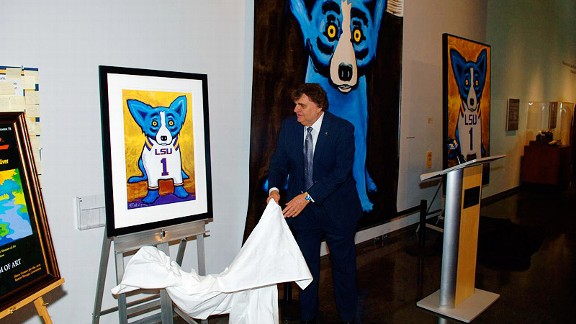 Courtesy George Rodrigue FoundationGeorge Rodrigue unveils the "A Number One Tiger Fan" print at the LSU Museum of Art.
When he was in high school in Louisiana, artist George Rodrigue -- renowned worldwide for his Blue Dog series, which was immortalized in an Absolut Vodka campaign and is now the centerpiece for an LSU football fundraising campaign -- was kicked out of class by a teacher because he wouldn't stop drawing. Rodrigue chuckles now at the memory, because that same teacher was also a local baseball coach, one who happened to tell Ron Guidry, aka, "Louisiana Lightning," to pack it up because he'd never amount to anything on the field.
"Those were his two claims to fame," says Rodrigue, 67, adding that the teacher, Ray Blanco, is now a friend of his.
Rodrigue was born and raised in New Iberia, La., the heart of Cajun country and the backdrop to many of his paintings. The iconic native oak trees of his home state have often been a centerpiece of his works (and serve as the logo for his educational foundation). But it was his take on the Cajun legend of the loup-garou (or werewolf dog, a boogeyman tale imported from France) that made his career. A new variation called "A Number One Tiger Fan" features Blue Dog wearing an LSU jersey. More than 3,000 copies of this $500 item have been sold, with all proceeds benefitting the Tiger Athletic Foundation (TAF), the George Rodrigue Foundation of the Arts (GRFA), the LSU Museum of Art (LSUMOA) and Louisiana State University.
"It's been very successful... wonderful," Rodrigue says.
A huge Louisiana sports fan, Rodrigue was in the stands when LSU beat Oklahoma for the 2003 national championship and also when the Saints beat the Colts in the Super Bowl two years ago.
"That was a great game. We sat in the middle of a bunch of Colts fans, and we're doing all our Saints cheers. We got the Who Dats and the What Dats. And I turn to a Colts fan and say, 'Whaddya got?' And he's like, well, all we got is 'Go Colts.'"