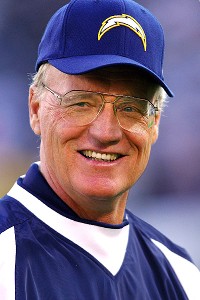 Kirby Lee/NFLPhotoLibraryMarty Schottenheimer boasts a 200-186-1 career record ... not including all those playoff wins.
It's been reported that the Tampa Bay Bucs will interview Marty Schottenheimer on Tuesday for their head-coaching position. Schottenheimer, 68, hasn't been a head coach in the NFL since he was let go by the Chargers after leading San Diego to a 14-2 record in the 2006 season. A few reasons Tampa Bay may be interested in Schottenheimer:
• Chuck Knox was unavailable.
• Bucs are giddy to see his Virginia Destroyers UFL championship ring.
• Folks around Tampa can call him "that young guy."
• "MartyBall" sounds way cooler than "ShermanBall."
• If he's almost twice the age of Raheem Morris, he's gotta be twice as good, right?
• He already looks like John McKay.
• He'll get a chance (again) to not talk to A.J. Smith when the Chargers come to town in 2012.
• Ronde Barber has always wanted to run the "Oklahoma drill."