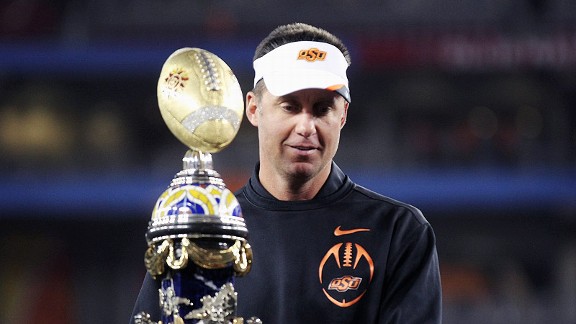 Donald Miralle/Getty ImagesTwo SEC teams played for the title, but Oklahoma State made its own statement by beating Stanford.
Bowl season is at an end. We have a national champion. But the point of bowl season is not to determine a national champion. That's what a playoff would be for. The point of bowl season is to watch the bowl performances of each conference, and then argue about why your favorite conference is awesome compared to all others.
ACC: .250 (2-6)

How awesome are they? Well, uhh ... Florida State beat Notre Dame in the Champs Sports Bowl. This totally would have been awesome 20 years ago or so. And help is on the way in the form of Pitt and Syracuse. Add in their bowl performances, and the ACC's record moves to ... 2-7. Ah, crap.
How awful are they? The ACC, is without question, the worst BCS college football conference. The conference now has five consecutive losing bowl seasons and is far-and-away the worst conference in BCS bowls, with an all-time mark of 2-11. All the mocking the Big East receives really deserves to be directed a bit south.
Big East: .600 (3-2)

How awesome are they? The Big East usually outperforms expectations in bowls and another winning bowl season silences some critics. West Virginia had the bowl season's most lopsided BCS and bowl victory, and in the New Era Pinstripe Bowl Rutgers beat Iowa State ... who had beaten Oklahoma State ... who some people think could be the best team in the country ... soooooo ... Rutgers could be the best team in the country? YES! No. But it's a sort of fun thought exercise. The best news of all is that four incoming Big East teams -- Boise State, Houston, SMU and San Diego State -- played in bowls and went a combined 3-1. All hail the Big East: college football's future power conference!
How awful are they? The college football powers-that-be insist that the regular season remain important. This really sucks for the Big East.