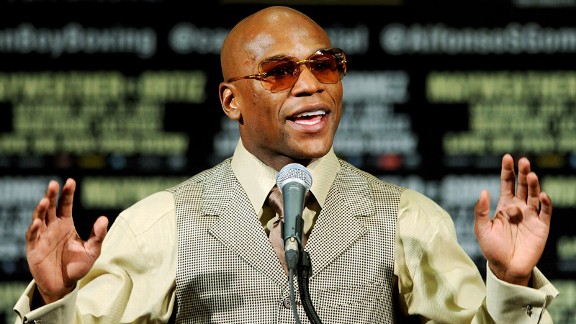 Ethan Miller/Getty ImagesDoes Floyd Mayweather actually want to get in the ring with Manny Pacquiao in May? We hope so.
Floyd Mayweather Jr. wants a piece of Manny Pacquiao!
Well, maybe.
Mayweather took to social media Tuesday and tweeted the following:
"Manny Pacquiao I'm calling you out let's fight May 5th and give the world what they want to see."
"My Jail Sentence was pushed back because the date was locked in. Step up Punk."
What the world wants to see, of course, is Mayweather (42-0) finally fight Pacquiao (54-3-2).
Apparently, social media is the new negotiating table. However, it's doubtful Manny will respond on Twitter, as Pacquiao hasn't tweeted since Dec. 17, 2011.
Bob Arum, Pacquiao's promoter, recently told ESPN.com's Dan Rafael, "We're fighting in June, one of the four guys," following the news of Floyd's continuance. The four guys: Juan Manuel Marquez, Miguel Cotto, Timothy Bradley Jr. or Lamont Peterson -- not Mayweather.
Oddmakers have tentatively pegged Mayweather as a very slight favorite (-120) if he does fight Pacquiao on May 5. The odds reflect a potential decline in Pacquiao's stock following his controversial decision win against Marquez in November.
Is Floyd being sincere? Or is he just being an Internet tough guy? Stay tuned.