On Thursday, 2002 Olympic gold medalist Sarah Hughes, along with former New York Ranger Adam Graves and a host of other celebrities, will head to Northport High School in New York to take part in the annual charity fund-raiser called A Midwinter Night's Dream.
The event supports Amyotrophic Lateral Sclerosis (ALS or Lou Gehrig's Disease) research and is rare in that it is run entirely by high school students, ranging in age from 15 to 17. Each year the students produce a full-scale charity dinner. Actress Christine Taylor, broadcaster Katie Couric and New York Yankees pitcher David Robertson are being honored as Heroes of Hope.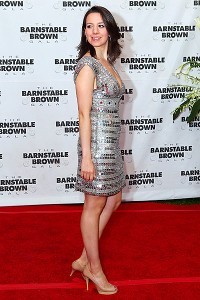 Michael Hickey/Getty ImagesSarah Hughes won a gold medal at the 2002 Olympics and is writing a book on figure skating.
The Northport students became proactive in fighting ALS after two teachers in their district were diagnosed with the disease. In the eight years since the event was founded, the group has raised more than $2 million for ALS research and related causes.
"I was so amazed by these young people who do all the work themselves," said Hughes, whose brother-in-law was good friends with Northport biology teacher David Deutsch, who was diagnosed with ALS. "I believe, at that young age, it will help the students throughout life."
Hughes should know.
The Great Neck, N.Y., native started skating at 3 and won Olympic gold in Salt Lake City in 2002 at 16. She then went to Yale and graduated in 2009 with a bachelor's degree in American studies.
And she's now back skating. For the past two years, Hughes has been making appearances in a range of skating shows.
"I realized that I missed the skating community so I wanted to get more involved again," Hughes said. "I'm getting ready to run out right now to train a number for a show in February."
Hughes also is putting the finishing touches on a book about U.S. female figure skaters and hopes to complete it by the fall.
"I challenged myself to write it all by myself, no ghost writer or anything," Hughes said. "It's about role models and why figure skating captures the audiences every four years. I hope the book is inspirational and helpful, not only to athletes."
For more on the AMND event, check out the website here.