Looking for sponsorship opportunities, 800-meter runner Nick Symmonds did what any athlete would do. He put himself up on eBay. OK, so maybe it's not the most typical approach, and he didn't put his entire self up for auction, just space on his left biceps for someone's Twitter handle.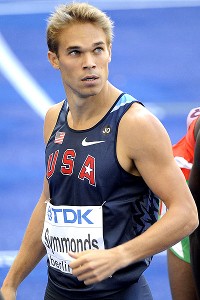 Thomas Lohnes/AFP/Getty ImagesNick Symmonds is taking bids to display a winning bidder's Twitter handle on his left biceps.
Ranked No. 1 in the United States and No. 6 in the world, Symmonds will wear the winning bidder's handle (as a temporary tattoo) on his arm for every meet this coming year.
The auction runs through Saturday, with bidding reaching more than $4,300.
Symmonds was inspired by U.S. shot-putter Adam Nelson, who held an eBay auction to attract a sponsor in 2005. Nelson's month-long sponsorship auction netted him $12,000. When Symmonds was looking for ways to attract sponsors as he prepares for the London Olympics, the online auction site seemed like a way to appeal to a broad base. Reaching as large an audience as possible is also why he chose to use a Twitter handle.
"I thought if it was a website or logo, not every fan has a website or logo, but every fan at least has access to a Twitter name," Symmonds said.
Although bidding has reached a point where the winner will likely be a company, Symmonds liked the idea that a fan had a chance to win.
What he also liked was the idea that this move would generate a bit of controversy. Symmonds has been outspoken about the restrictions the IAAF and USATF, track's international and U.S. governing bodies respectively, impose on athletes when it comes to promoting individual sponsors. He even started a Facebook group protesting the regulations.
"I'm going to have to cover the tattoo in situations [because of these rules], but it almost gives more value to the fact that I have to cover it up," Symmonds said. "A guy running around with tape on his arm looks kind of silly. I'm sure I'm going to be asked many times what's going on there. I'll have to say this great sponsor @so-and-so is supporting me ... but I'm not able to display their name [during races] due to these antiquated rules."
Symmonds sees it as a win-win considering any controversy will generate even more press for his the auction winner -- just like putting the opportunity up on eBay has already done.