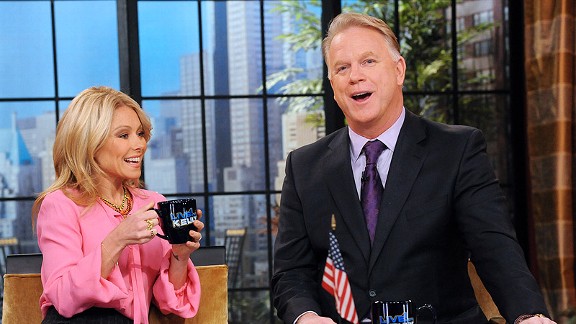 David Steele/Disney-ABCOn Wednesday's "Live! With Kelly", host Kelly Ripa was joined by guest cohost Boomer Esiason.
Former NFL quarterback and current broadcaster Boomer Esiason was the third of five athletes to cohost "Live! With Kelly" this week with Kelly Ripa on the nationally syndicated talk show.
Esiason tweeted, "Thanks to Kelly Ripa @LiveKelly for making today so comfortable. #Graciousandfunny."
The lineup for the rest of the week: ESPN analyst Jesse Palmer (Thursday) and Olympic skating champion Apolo Anton Ohno (Friday). Miami Dolphins running back Reggie Bush and NASCAR driver Carl Edwards cohosted earlier in the week.