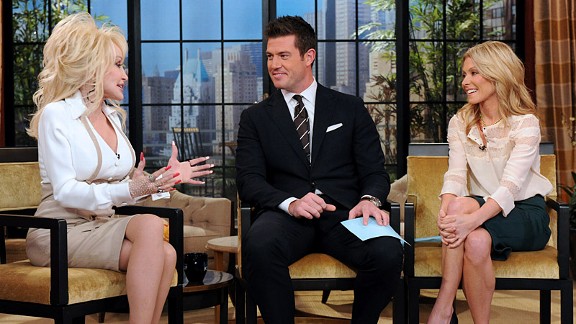 David Russell/Disney-ABC Domestic TVESPN analyst Jesse Palmer and Kelly Ripa interview Dolly Parton on Thursday's show.
Former "Bachelor" and current ESPN broadcaster Jesse Palmer was the fourth of five athletes to cohost "Live! With Kelly" this week with Kelly Ripa on the nationally syndicated talk show.
"Kelly makes it so easy. She's a pro … she makes everybody look good, even me," Palmer said. "Plus, she's a lot better looking than my normal co-host."
That would be David Pollack, his cohost for ESPN's college football coverage.
On Friday, Olympic skating champion Apolo Anton Ohno cohosts with Ripa. Previous hosts this week included Miami Dolphins running back Reggie Bush, NASCAR driver Carl Edwards and broadcaster Boomer Esiason.