Welcome back to another edition of Page 2 Jeopardy!, the quiz that tests your knowledge of sports, pop culture and assorted trivia. Please remember to phrase your responses in the form of a question.
(Correct questions at the end of the quiz.)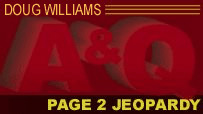 1. Answer: The night before every start, this pitcher says he eats this meal from Taco Bell: "Same thing every time. Three crunchy taco supremes, no tomato. Cheesy gordita crunch. And a Mexican pizza, no tomato."
2. Answer: Dirk Nowitzki just became the third active player in the NBA to play at least 1,000 games with one franchise, following these two.
3. Answer: When he leaned over to start digging into some pancakes his wife made for him, this NHL player suffered back spasms that forced him to miss a game.
4. Answer: Long before this LPGA rookie played well in the 2011 U.S. Open and Solheim Cup, she was a multi-sport athlete and competitive skateboarder.
5. Answer: His father would show him game tapes of quarterbacks Warren Moon, Dan Marino, Fran Tarkenton and Joe Montana so the son, a future college star, "Would know what perfection looked like."
Question 1: Who is Justin Verlander?
Question 2: Who are Kobe Bryant and Tim Duncan?
Question 3: Who is the Kings' Dustin Penner?
Question 4: Who is Ryann O'Toole?
Question 5: Who is Robert Griffin III?