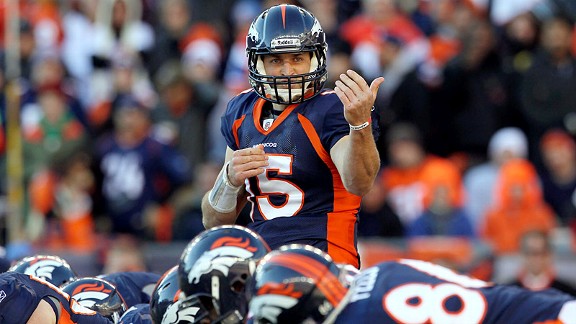 Jeff Gross/Getty ImagesPage 2's columnist from the old school brings new perspective to the discussion of Tim Tebow.
Editor's note: Art Garfamudis originally wrote for Page 2 in 2008 before he retired to dedicate himself to preparing his safehouse for any number of civilization-threatening crises. The depletion of his potable water, dried food and ammunition supplies has lured him out of retirement to once again present his unique perspective on the world of sports.
Ten questions about Timothy R. Tebow
It seems like wherever you look, people are talking about Tim Tebow, the second-year signal-caller of the AFL-refugee Denver Broncos. So, naturally, my editor wants me to write something about him. What can be said about him that hasn't already been said? That's what I intended to find out when I sat down at the typewriter.
This is what I discovered:
1. What's the big deal with this guy?
Every team has to have a starting quarterback, right? And a backup. And then another backup just in case. That's something like 100 guys in the NFL with the same job title. Tebow just happens to be one of them, so it's not like he's in a unique position or anything. I guess it's what he makes of the job -- not the job itself -- that gets people's attention.
And he gets a lot of it. As it turns out, he's a very polarizing fellow. I went for a stroll around the farmer's market yesterday. I took an informal poll of people I met. One-third liked Tebow, one-third disliked him and one-third either didn't speak English or pretended not to understand me.
2. Does God play favorites on Sunday?
According to another poll, "43 percent of those who said they were aware of Tebow's success believe it's at least partly the result of divine intervention." I asked my clergyman about this, but he was too upset to answer because he lost a bundle betting on the Steelers last week.
3. Is it because Tebow was home-schooled?
I don't blame parents for home-schooling their kids. No home-schooled child ever got beaten up for their lunch money or forced to wear a rhinestone tiara by a guy named "Bull" or thrown in a locker for nine days straight -- not that any of that happened to me.