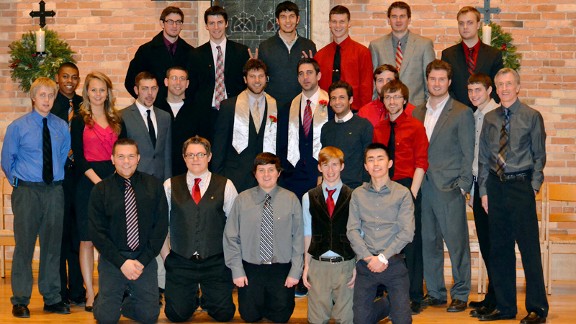 Courtesy of Aaron ReynoldsGraham Harrell and Aaron Rodgers pose with their new fraternity brothers at St. Norbert College.
When you earn a bye in the NFL playoffs, you've earned the right to spend that down time in any number of ways. You could spend it with family, spend it relaxing ... or you could spend part of it joining a fraternity.
That's what Packers quarterbacks Aaron Rodgers and Graham Harrell did.
That's right, the reigning Super Bowl MVP and one of his backups went "Old School" on January 5th and were initiated into Tau Kappa Epsilon at St. Norbert College, which is located in De Pere, Wisc., about five miles south of Green Bay. Obviously this raises a lot of questions, so let's try to answer a few.
Were they hazed? Paddled? Ordered to shoot a horse (even if the gun was filled with blanks)?
"No," said TKE president Aaron Reynolds, 22. "We don't haze or paddle or anything like that."
Did they have to pledge like everyone else?
"No, they're honorary members," said another TKE, senior Nolan Smith, 22. "They didn't have to do the regular six- or seven-week program."
They must have been excited about that.
"Oh, yeah, they were happy they didn't have to go through the regular pledge process," Smith said. "But it still meant a lot for them to be initiated into TKE."